RHB is the fourth largest, fully-integrated financial services group in Malaysia. We will help you to grow your wealth and become financially independent.
RHB is crafting the cornerstone of an exciting future in Cambodia's financial sector. With a mere 5% banking penetration, RHB aspires to enlighten Cambodian students about the significance of banking through an informative financial content hub, GoWave, and a simplified banking experience via the Flow app.
Seizing the potential of an untapped market – students, GoWave developed a content hub to host a wealth of finance-related information as a 'pull' marketing strategy. This was aimed at establishing credibility and creating a buzz for the imminent app launch. In the second phase, we put together a comprehensive content hub featuring videos, articles, and saving calculators to empower our audience.
3 UI/UX designers, 1 content writer, 2 WordPress developers, animation agency
UI/UX designer, WordPress developer
Design a website that resonates with the vibrant visual vibes of our target audience - the cool and savvy youth and university students in the bustling streets of Phnom Penh.
Craft a remote UX research study to understand the features that users are looking for in a banking app.
To accomplish the mission of developing a rich information hub with a visually appealing design targeted at the 18 to 35 demographic and creating an engaging banking app, RHB needed an in-depth grasp of the target audience's preferences and requirements. This is where admiral.digital stepped in, entrusted with conducting dynamic market research to unearth valuable insights about the persona.
This exhilarating project by admiral.digital for RHB bank entailed the creation of ten alluring and unique landing page designs. These designs were meticulously crafted to conduct A, B, C, etc. tests.
But don't be mistaken, these were not your typical AB tests focusing on a singular design aspect. These experiments sought to ascertain which design directions achieved superior results, gauged by several metrics including engagement rates, click-through rates of individual ads, the number of leads generated, and bounce rates and dwell time on each landing page.
The experiments ventured beyond testing a single variable. We also explored the (imaginary) features of the apps, which served as unique selling points to encourage users to sign up for app release updates. Each landing page design boasted a persuasive set of 3-4 attractive app features. Also, the designs ranged from 'Safe' to 'Radical'
'Radical' refers to unconventional design approach that challenges normal practice. They are intuitively designed with fluid and radical web elements, aimed at constructing a seamless browsing experience.
'Safe' is defined as the design approach that encompasses the conservative layout of a corporate website in the '00s, but significantly enhanced with a cleaner, simpler and more intuitive touch. They have little to no micro-interactions for a static yet clean look.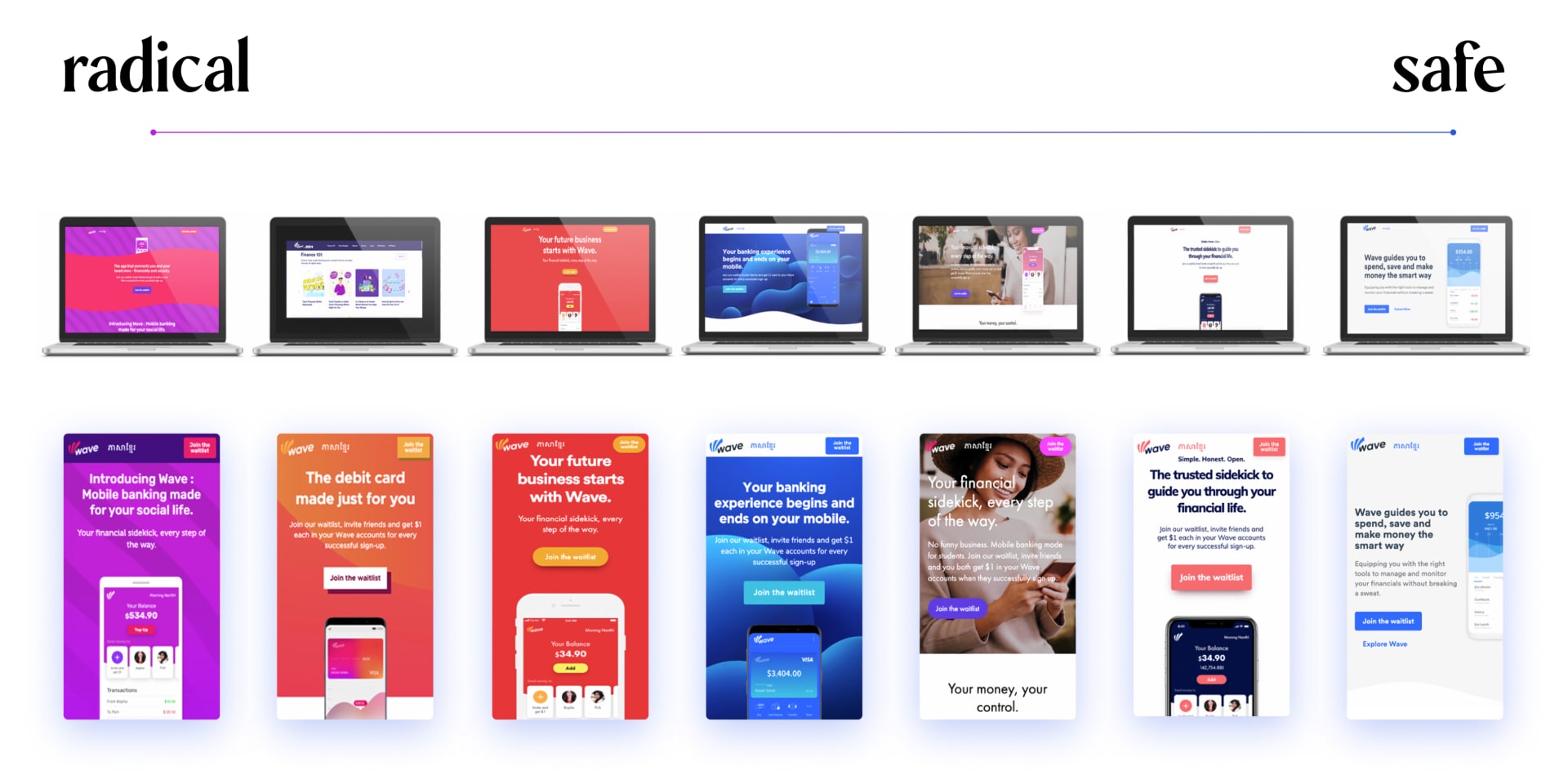 To comprehend the visual design direction that user personas prefer for the Financial Content Hub
To determine which app features should be prioritised in the development of the banking app (CDRB project)
Initially, the plan was to create ten completely unique designs. However, due to time constraints, we managed to produce seven unique designs. The remaining three designs were derived from the top three designs among the seven.
These 7+3 designs were tested over the course of a week per design. They were advertised on Facebook and Instagram to young adults aged 18-35 with relevant interest targeting.
The top-performing features and designs were established at the end of the experiment weeks.
By the end of the 10th week of the experiments, a staggering 63% more leads of 16,256 were achieved, surpassing the target of 10,000, giving a green light to proceed into Phase 2 of the project.
Also, based on the outcomes, the design direction bravely shifted towards the 'radical' end of the spectrum
The content hub is a dynamic assortment of various dimensions of content, including content pillars and mediums.
Within the hub, you will unearth two thrilling content mediums:
Our talented content writers, with a little boost from the financial gurus at RHB, have crafted a whopping 84 articles. Brace yourself for the adventure as we dive into 5 thrilling pillars: Finance 101, Save & Budget, Lifestyle, Borrow, and Invest. These pillars serve as a treasure trove of financial knowledge, guiding young individuals on how to master their finances like a pro.
The design of individual article pages is aimed at turbocharging the reader's journey and embracing the mantra 'empower the youth together'. It encourages readers to pass on the financial wisdom to their friends and family by sharing the articles.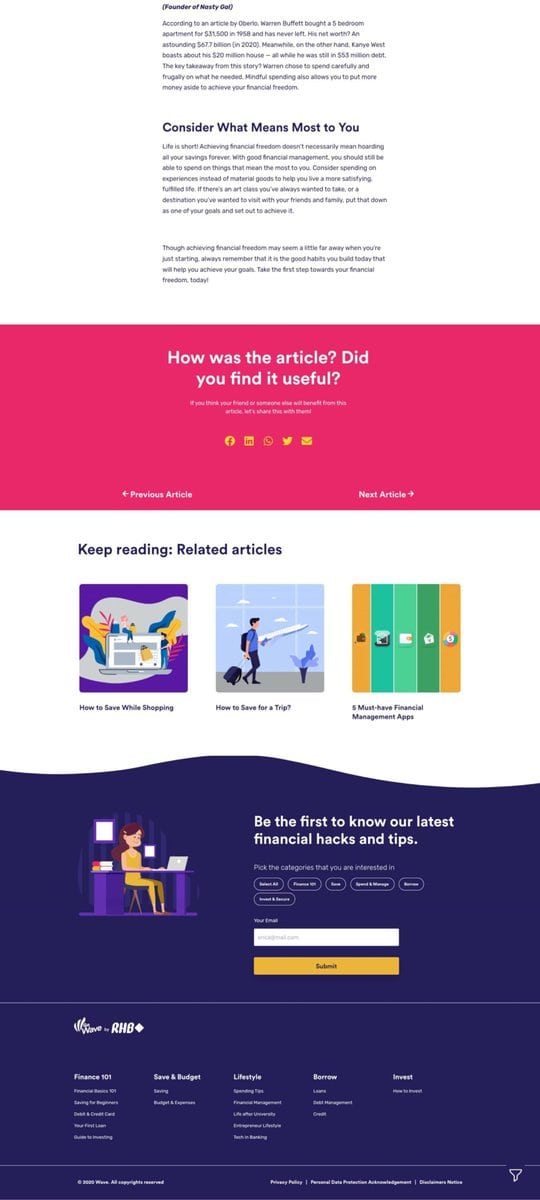 Thanks to the creative prowess of the animation agency that we worked with, we've whipped up 6 animated videos, each a unique treasure trove of financial know-how.
Our video archive showcases these educational gems in an easy-to-navigate grid. Each card in the grid presents a snapshot of the video, its title, and the top 3 nuggets of wisdom it holds. The page hosting these videos is equipped with a timestamp button, allowing viewers to teleport to specific segments packed with must-know information.